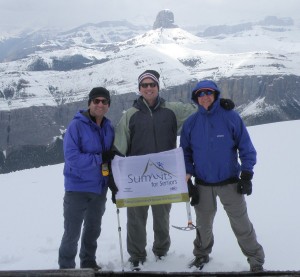 Mountains had lots of new wet snow from recent rain system so Kevin, Dave and I  decided on plan C and went for a sure peak that Kevin had not done.  Drove the jeep into the Ghost area – TransAlta road all potholed from Bar Cee – could use a grader-  Big hill was fine and easily went across gravel flats to old road. Turned at marker 37 and parked at edge of trees.  Went up drainage past camp areas and then cut back left to old trail- note start of trail is covered in lots of blowdown.  Some snow on trail but easy until above treeline. Had to kick steps up notch/drainage up to plateau and on final slopes to summit but not very deep. Up in 2.5 hrs including snack break.  Good workout and another Summit for Seniors.  Probably 7th time for me and 3rd for Dave.
A nice couple (Shirley, Paddy and their dog Chloe) joined us at top and helped with the pictures. RT of 5 hours so down in a little over 1.0 hrs.
Kevin's Pics at Summits for Seniors – great cause!!
My pics – Black Rock  – use fullscreen slideshow.
To save a copy of a pic – go to highest res version and right click to save as.