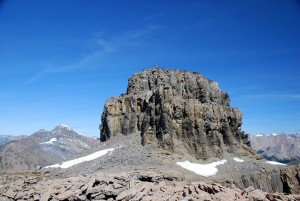 Wietse and I went up the SouthWest shortcut route(Non Kane route) on Mount Redoubt on Sat.  Bob Spirko (and Marta) have a good writeup (see website/photo page tab at top) and pictures on the route and we were met on top of the mountain by a guy who did it by this route in 1996 so this route is not new. There was a ski ascent in the log book.  Over the years I have looked at this route and variations from the Lake Louise ski area and thought that it should go. The Kane route is a long route which traverse around the North and East side of the mountain and some people do it as a two day trip. I searched on the internet and was pleased to find that Bob had done this shortcut and had a good writeup.
We pushed our bikes up to Temple lodge in 45 min and were not sure if that was really worth the hassle and headed along the trail to Skoki. At the second "bridge" which is a set of planks we went up the left side of the narrow rocky drainage – wet and running with water – would be quite easy when dry, and followed it up and around left to a nice meadow at the base of the big scree basin – 2 hours to here.
Went up the scree/broken rock and trended right to bypass rockbands and head to the ridge. Upper part of this is quite loose so stick to the stretches of the biggest broken rock. Do not need to go all the way to ridge as best to angle left at some point before the black band near the top of the ridge. We went up to the ridge and then had to follow a ledge to the left under the black wall.
Cross over a small ridge – cairn- and into a very loose gully that leads up to top of the ridge -cairns- which tops out just SE of  the base of the summit block. Walk over to summit block and follow left side 200 m until find a scree ramp that leads to a short break in the wall ( 2 m moderate scramble) which leads to a scree bowl and the summit. 4 hours 20 min at average pace incl breaks. Tremendous views on a sunny day. Loose broken rock section was slow and careful on way down but overall a quick out 2.25 hrs? including an 8 minute bike ride down – which was definitely worth it.
Very good scramble and much preferable to the long Kane route.
Note some beta pics on the Pumpkin Ski Traverse over purple peak.
Pictures –  Mount Redoubt  All pics are Wietse's since I left my camera on the charger.  Use fullscreen slide show.