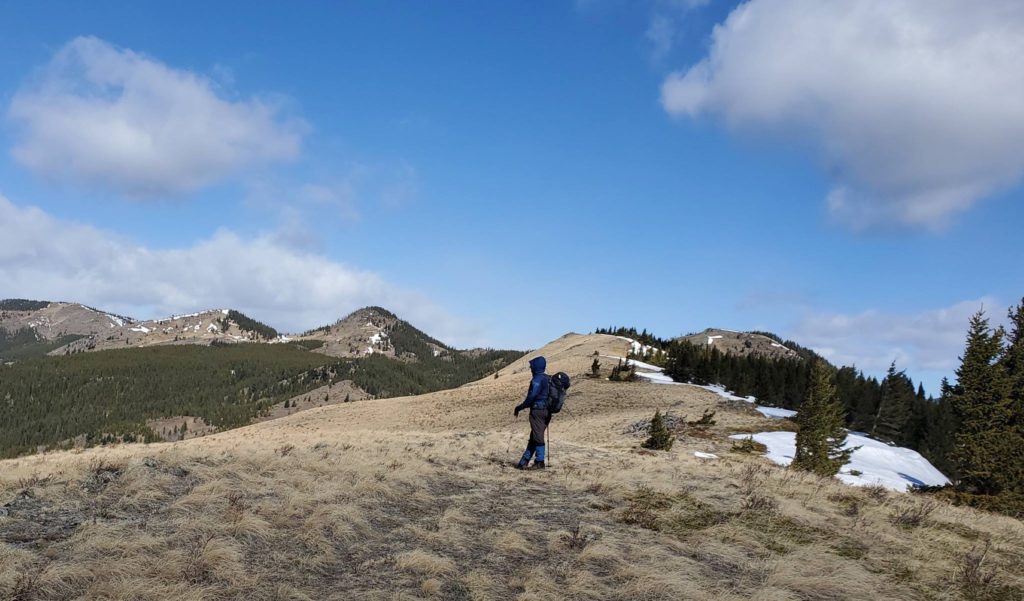 Jack Knife Butte – Great trip- good ridge walking with only a little Mid calf snow in some treed areas. Sunny with great views although windy. Went across Camp Creek on an ice bridge that may not last much longer. Some snow/mud on trails from Bob Creek staging area to camp creek. No ATV's in area until May 1 but did see some trail riders in the valleys.
19.5 km and 960m total gain.
Dave's comments – With the forecast for the mountain regions rather blustery for April 6th, Bill Kerr and I deferred to the front range foothills, where the forecast called for no precipitation. We got lucky and did a sweet ridge walk in the Bob Creek Wildland Provincial Park. 19 kms, 6.5 hrs, 950 m vert and a highpoint SW of Jack Knife Coulee (we'll call it then "Jack Knife Butte"). It was rather windy most of the day (gusting to well over 100 kms/hr) and we also saw the evidence of a same day cougar/deer interaction that likely did not end well for the deer. The Bob Creek area is sandwiched in between the Whaleback and the Oldman River and has endless kms of ridges for hiking.