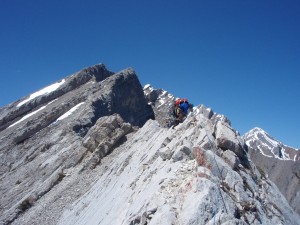 Rock climb with Kevin Papke – 1300 m –  up to 5.5 – lots of knife edge ridge.
Eight hours up – 2 hours down.
May 29, 2009.  Parked at the Cougar Canyon park lot. This time of year, you have to cross the stream 5-6 times on various wet slippery rock crossings as the trail goes from side to side. Expect to get toes wet. After about 45 min to 1 hour depending on stream crossings, see a cairn on the left side just before a big bend in the river.  A faint trail starts up the right side of the crest of a lightly treed ridge.  Lots of ticks as this is prime sheep habitat.
We went along close to the crest (left side) of ridge on various trails for about 1 hour for about 500 m. until hit first rock band – 30 m high wall.  Checked down and left but couldn't find easy spot. Apparently the easy scramble route is farther uphill to the right.   We went up a 5.4 groove for 30 m and then scrambled some slabs and trees for another 50 m. 
Put rope away if used it as it is another 1 hour as go up scree, small rock bands and treed ridge until hit second rock band which is 50m+ wall.  Lots of cairns and we went down and left to the find the 5.5 layback crack beside a big tree.  Need a left hand underhand move to go up this and some people rate it at 5.4.  Good protection placements in crack. Hit bolted belay in 30 m(hangers removed as of Aug/2011- see comments). Top of ridge in another 20 m.
Now on rock ridge, go over exposed knife edge sections, some bolts(hangers removed as of aug/2011) and over one 5.2 tower.  Put away the rope again for 20 -30 min as hike down scree and back up along broad ridge as it turns left. Scramble around some towers and up to a large tower/rock band that blocks the ridge. The trails leads right for 100 m along a 10 m wide ledge at the base of the band and then up easy rock for 15m to another ledge at the base of second rock band. Traverse back left to the top of the tower and then up onto upper rock band/rock ridge.  This would be quite easy if dry but it was deep snow when we did it and not pleasant as we wallowed and were at risk of avalanche. A group behind climbed a 5.5? groove to the right of the tower but it was wet and we had our boots on so we went with the snow. Some groups rate this as 5.4 when dry and it would be much faster and safer than going around on the ledges.
The upper rock ridge has sections of knife edge and rubble- moderate scrambling. Some diversions left around towers/rock bands and eventually comes to the final steep 50 m high rock band.  This looks steep but an easy 5.3 route slants up 30 m and left across the face and puts you on the scree/rubble slopes which lead to the false summit above the teahouse. Eight hours to here for us but wasted time on the snow and route finding on the first rock band.
Pictures are here. Lots of trip comments with pictures.