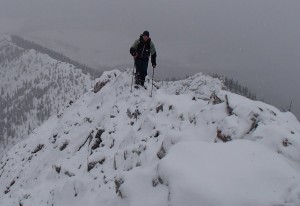 Thunder mountain is the first mountain in the Canadian Rockies that was climbed by a non native(Peter Fidler) in 1792. Fidler is the first european  to explore Southern Alberta and view the southern Canadian Rockies.  He wrote about Devil's Head in his reports which the Blackfoot had named and used as a marker or navigation tool. Fidler had a map drawn on a hide by "Old Swan" – a native guide – which showed Devil's Head, Chief Mountain and Devils Tower.   He entered the rockies at the Gap and then solo scrambled Thunder Mountain in December, 1792 so 220 years before our December ascent.  It is a nice class 2 ridge walk in the summer if you go around the rock parts and probably a moderate scramble if you take all the rock.  In winter with snow it is more difficult although I expect that the ridge blows clear or is chinooked off most of the time.
Drove down from Calgary on highway 22 and then west on the Gap road. We arrived just as the new snow started and knew we were in for a longer wet day. Not best conditions as there was not enough snow for the snowshoes except in some steeper places and so we carried them to the top for weight training.
The new snow froze to the rock and frozen ground so it was all slippery and difficult footing especially on the way down.  Various snow storms during the day with high winds wiped out our tracks so we wasted time in the trees on the way down.  About 11 km RT and almost 1000 m.   Fours hours up and also a slow careful four hours down to arrive at the jeep just before needing headlamps.  Traction devices like micro spikes and an ice axe or whippet would have been useful – I own all of these but did not think to bring them.
Pics at Thunder  Full screen slideshow best as usual.
Kevins Pics  at Summits for Seniors  Thunder  – great cause.