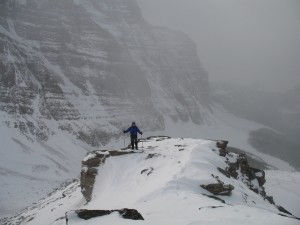 Dave Salahub – 500 Ascents in 33 years(1976 to 2009)
A long time friend of mine – Dave Salahub e-mailed about skiing Little Temple by way of Lake Annette in Paradise valley.  Good snow coverage in Lake Louise area this year so sounded interesting.   Dave, Dan Roulston and Brian Hunter and I followed old trail to the bridge below lake and then Dan broke trail up to lake, around the right side and up moraine to ridge.  We decided to gain the ridge (carried skis for 50 m) and then skied up the ridge through trees as the wind was gusting very heavily.  We broke out of the trees and continued up the snow until it changed to scree/boulders.  The wind gusts were 100+ km/hr and Brian and I did some of the scree but turned around when the skis came off.  We skied down through the trees a bit and then contoured over to the gully and back to the lake. Visibility was poor with the blowing snow and skiing was variable with alternating hard pack and pockets of softer snow.  There were rocks to avoid above the lake but good coverage for late November.  Dan and Dave continued to the summit and then also skied down the gully between the ridge and Mount Temple. 
Dave had picked this summit because it had been his first summit as a 15 year old Venturer/Boy Scout in 1976 and now 33 years later, it also was his 500th summit.  I asked him what were his most interesting and memorable peaks from the 500( note the Grand Teton did not even make the top 20!)
HI Bill.  – The 20 most interesting/memorable peaks was a great exercise.  Here are some of my favourites (and as mentioned it seems the best memories come from not necessarily the peaks as they do from the trips that surrounded them).  In no particular order:
Gora Avachinsky (2741m, 2007)– volcanoe ski ascent in Kamchatka- one of those places I always wanted to visit.  Some great spring (corn) skiing and an interesting approach (started with a 6-wheel drive Russian Kamaz transport truck which got high centered in the soft snow which was replaced by a full snowcat which we got stuck in the raging spring creek followed by a good ole snowmobile….)
Assiniboine (3618m, 1987 w/ Mark M) – September long weekend – nasty conditions on the standard route from Hind Hut – took us longer to descend/rap downclimb than it did for the ascent.
Mount Whitney (4419m, 1989 w/Diane) – I think it took us 10 hrs one way for this "hike" in what was up to thigh deep snow after a huge fall storm.  We were on our honeymoon.
East Ridge of Bugaboo Spire (Bill B, Kelly, Dave and Jim) – 13 hrs and a very real climb on that fantastic granite!
Mount St. Helens (Jody, Mark, Bob, Gregg) – after it blew in 1980, the summit was closed to all hikers/skiers until they opened the peak up in June of 1987.  They had a permit system of 100 max hikers per day.  We went down on a road trip, and did the hike after sleeping in our car at a forest service kiosk on the south side of the peak (to get a permit for the hike).  Did Mt Hood the next day.   I returned and did this hike again in 1991 with Diane.
Elbrus (5621, 2003 with four Russians from Nizhny Novgorod) – about six weeks  after the two climbers from Medicine Hat had perished, I was on the peak in what had to be similar conditions (terribly high winds, blowing snow, zero vis).  Kept our smarts and with GPS and good gear we summitted and returned.  Had a 60-hour period with not a wink of sleep due to very difficult camp conditions wind/lightning, thunder.
Half Dome – in 1989 with Diane and again in 2005 with Jeff Gair– a great hike and the railings in a fantastic setting and the crowds didn't bother me a bit.
Licancabur (5921m, 2004 with Jeff Gair) – the culmination of a spectacular ten days in the Atacama Desert of Chile/Bolivia.  Like being on another planet for a vacation.
Mount Bierstadt (4287, solo) – first of about a dozen Colorado 14'ers I was able to hike as a result of some frequent biz travel to Colorado and as stopover on Houston trips.  A January day trip winter ascent with snowshoes – 10 hrs one way but that was starting from my house in Calgary.  Way to go Air Canada…..
Orizaba (5536m with Jeff Gair in 2000) –volcano bagging trip to Mexico, inspired for me by the memory of a lost colleague and climbing friend, Robert Burge.  Had views of Popocatapetl (5452m) blowing ash and steam as we summitted reminded me of that earlier trip to it's summit with Robert in 1985.
Columbia (1987 with Margetak) – for me I think about the sixth try to do that ski ascent.  Finally hit great weather and from a camp near the trench, a great ski/scramble and another place I never have to go back to!
Castleton Tower (Bill Betts, Kelly, march, 1989) – another fantastic rock climb and a great introduction to desert sandstone climbing.
Mount Nelson (2007) – a big scramble day in the Purcells.
Cerro Condor (1990) – snowcovered peak on Tierra del Fuego that was the first peak Diane and I climbed on a year-off travelling trip. 
Pico Lagazuio (Italian Dolomites, 2008) – I made two via Ferrata trips to the Dolomites in 2008 in connection with North Africa biz travel.  Did about a half-dozen popular and excellent via Ferrata routes, this one featuring a series of wartime tunnels that resulted in about 80% of the 650m vertical to summit the peak being scrambled with headlamp INSIDE the mountain.  Headlamp/helmet and via ferrata harness…..
Mount Stephen (2004)– fantastic and classic rockies scramble on a perfect hot August day.  Fell asleep for two hours on the helipad on the summit.
Mount Temple – must be something about this one.  Did it for the first time at age 19 with a high school friend.  Have returned a few times, and it was as enjoyable this past summer as it was the first time.
Cirque Peak – Dolomite area has always been a favourite of mine. 
Pigeon Spire (1987) – way too much fun on solid rock in a scenic area!
Little Temple (1976 and 2009) – last Sunday just feels good – nice peak in a familiar area connecting me back to my teenage hiking roots.
Angels Landing (Zion, numerous times) – just a great hike in a fantastic valley – Zion is a favourite place of mine along with many other places in Utah.  Not so much scrambling done over the years, but a hike that I do at least once every time I'm down there…
San Jacinto (3302m, 2008).  The mother of all hikes.  Cactus to Clouds.  Just under 10 hrs one way, but with a documented 3370m total vertical gain including downs along the way from the starting point at the Museum in Palm Springs.  The worst of it were the first two or three hours under headlamp in the 25C heat of the desert at night.  The best of it is that your knees get a breather – you take ¾ of the downclimb on a tram.
But amidst those, there will always be the local favourites – scrambling and easy rock routes on Yam, Mt. Temple, Ha Ling Peak, Grotto, and Heart Mtn – peaks that it seems will be worth repeating for as long as the legs and lungs will allow…….
Great attitude, interesting list and a great accomplishment.
Little Temple is a very good ski trip.  About 20 km RT and 900m.  Took us about 7.5 hrs? and everyone was on tele gear except me.  The AT skis were good uphill, in the trees and on the windslab in the gully but the gradual uphill stretch of trail on the way out and the 2.5 km on the Moraine lake road were a bit of a pain on AT gear.
Pictures are here  Little Temple