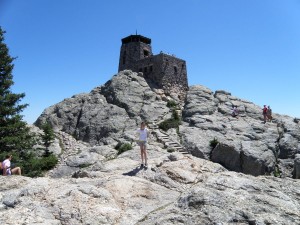 The "Great American Roadtrip" to the Black Hills, South Dakota.  Visited Custers Battlefield and Devil's Tower on way down.  Billing, Montana is also an interesting place with reasonable shopping and food.
Black Hills are centered around an igneous uplift and are higher than anything  else east of the rockies. Hard rock with large quartz and gold seams – great history – native american, wild west, gold rushes, and lots of great attractions.  We saw re-enacted gunfights in Deadwood – Wild Bill Hickock shot, museums, etc.  Mount Rushmore and the Crazy Horse monuments are larger than expected and impressive.
Natural attractions include Needles highway, caves, badlands, buffalo, wild horses, Sylvan lake(National Treasure #2 scene), and Harney Peak.  We went up on Trail #9 for 3.8 miles and ~ 1500 ft ~ 2 hours and back on # 4.  Plan for early day as hot weather can be thunderstorm cycle.
Harney Peak  pics – use fullscreen slideshow