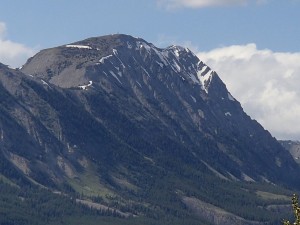 Mount Erickson at Crowsnest Pass – about seven km into B.C.
Trip with Kevin and Scott.  Mountain was done by group of seven and Dave S. on Saturday and us on Sunday.  We did not start at end of ridge so we went up on RH side and used the service road for the large powerline. We then went up and down mostly on the east side of the ridge crest.
Note if take the logging road which goes North off highway 2-3 km East then could drive up service road for powerline and save 1 -2 km and gain 400 + m before gain ridge.  Also could travel logging road until could access col on North side of main summit and could miss the whole ridge.  See route maps in  with the pics.
Pics at Erickson  – full screen slideshow best.