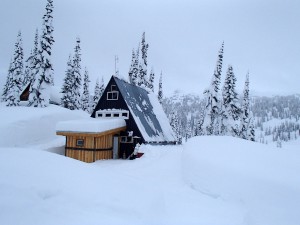 Annual powder ski trip to Blanket Glacier Chalet.  Twenty third year.
See previous years links under ski trip tab at top.
lots of new snow – about 1 m so big trail breaking and deep powder skiing. My 95 mm under foot Volkl Polar Bears were not wide enough!!
Al has added a new drying room onto the chalet which is great.  Everything is hung up there so opens up the main room and gets stuff dried quickly and throughly.
Getting lazy on the pics and snowing most of the time so not great pic weather.
Blanket 2013  – full screen slideshow best.