Interesting Climbing Mountains in Canadian Rockies and Nearby Area
Assinniboine – highest in Southern Rockies – identifiable for 50 km+ , Matterhorn of Rockies, – fantastic/spectacular hiking backpacking destination. Most popular route is North Ridge which is facing camera and the sun/shade divide. Mainly an advanced scramble on loose rock with some 5.5 sections on upper part. One of the 50 classic climbs of North America. Trip report https://www.summitpost.org/mount-assiniboine-n-ridge-5-5-tr/407820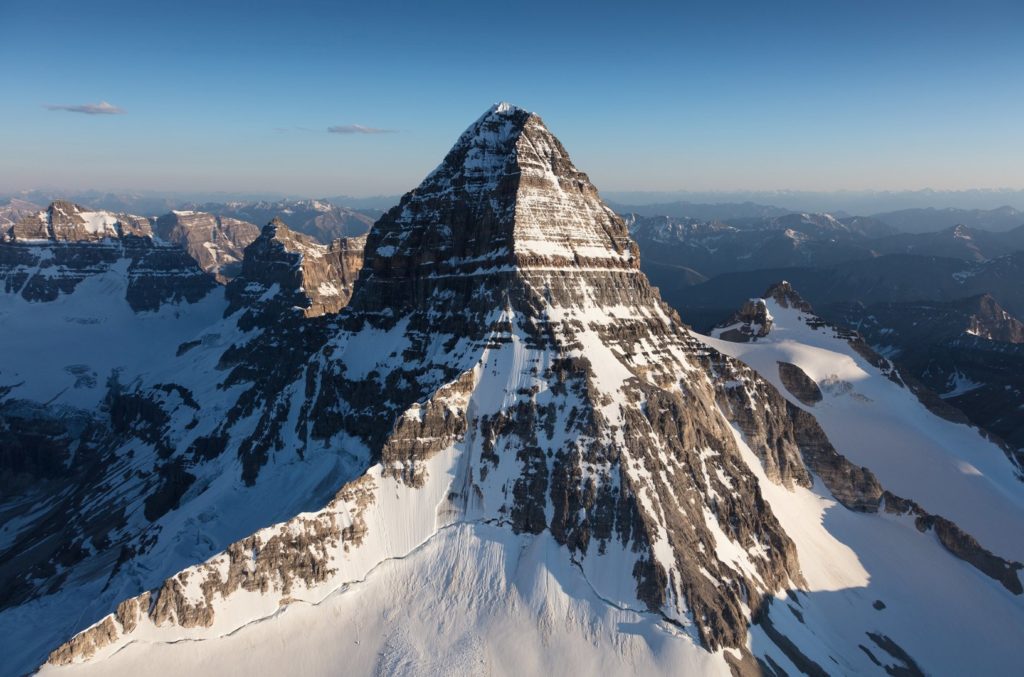 2. Robson – west of Jasper on Highway 16 – Highest in Canadian Rockies. Has 10,000 ft of prominence(3050 m) from trailhead to top. – Berg lake, falls, etc. Difficult climb as good conditions are hard to get and some years is not climbed at all. Kain face and roof shown here first and then the SW face which faces the road.
Robson trip https://billkerr.zenfolio.com/p954319559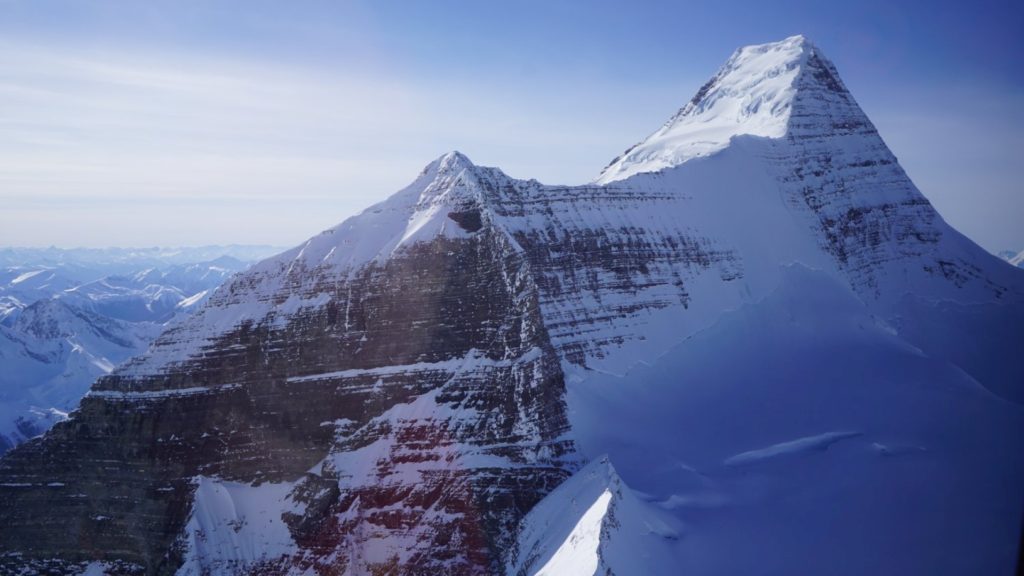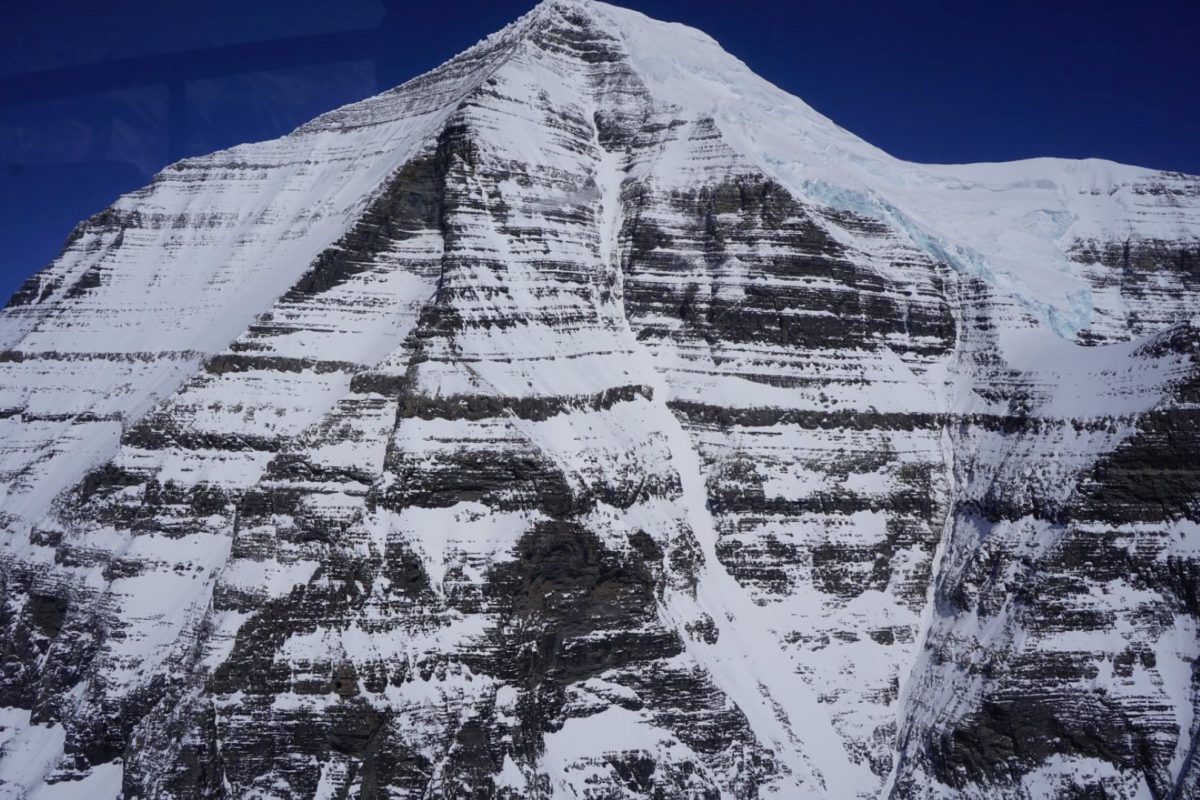 3. Athabasca – Columbia icefields – dominant view from highway 93 North – 11,000er (Andromeda, Athabasca Glacier and Snow dome to the right of this pic). This is North face and Silverhorn. Trip https://billkerr.zenfolio.com/p137238955
4. Mount Columbia – highest mountain in Alberta – glaciated – ski ascent in winter/spring – totally hidden from view from highway
5. Alberta – hardest of the 11,000 ft group and hidden from view from highway- less than 30 people have done full list of 54 or 58 – takes many seasons and a full lifetime for most.
6. Edith Cavell – South of Jasper – angel glacier just showing one wing. This is the East ridge from North. East ridge is advanced scramble with some sections of 5.3 climbing on quartzite rock ridge. https://www.summitpost.org/east-ridge-edith-cavell-5-3/869219 and https://www.billkerr.ca/index.php/mount-edith-cavell-ne-ridge-5-3-sept-2013/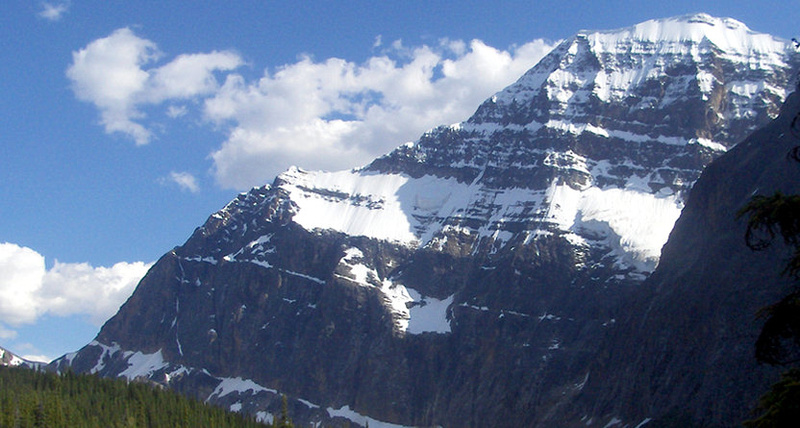 7. Sir Donald – Rogers Pass Highway 1 Best view coming from West – Climb is left skyline ridge 5.5 on quartzite rock. One of the 50 classic climbs of North America https://billkerr.zenfolio.com/p97966278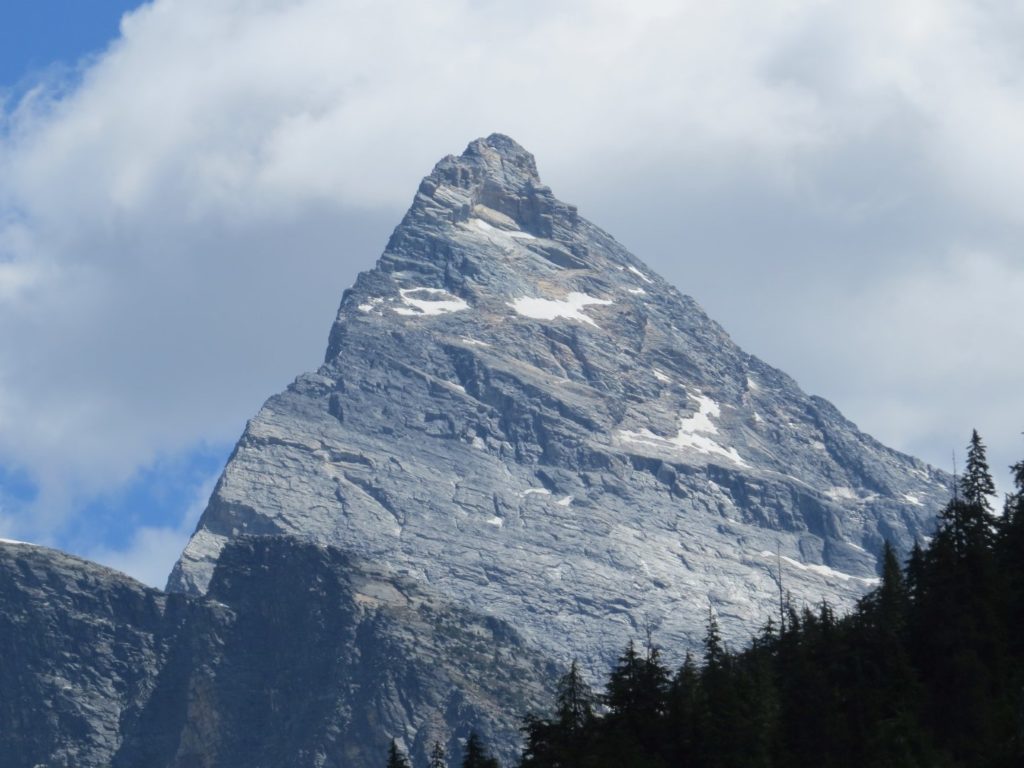 8. Temple – Famous as dominates view from Lake Louise area. Glaciated top and North face heavily photographed from Lake Louise village and ski area. Temple is one of 10 peaks around Moraine lake/Larch Valley and is the easiest to access of all the 54 Canadian Rockies peaks over 11,000 ft(3353m)- see very good parks brochure about scrambling Temple –Parks Canada Scrambling Brochures
Various trip pics https://billkerr.zenfolio.com/p739902578
Best route through crux https://www.summitpost.org/the-grey-band/472109/c-531269
9. Victoria – prominent glaciated peak at end of valley with Lake Louise – Draped with glaciers it is also an 11 thousander. Lake O'Hara is on other side of Victoria. The high pass between Mount Lefroy and Victoria is Abbott pass which has Abbott hut – a stone climbers hut built in 1922. https://billkerr.zenfolio.com/p472308026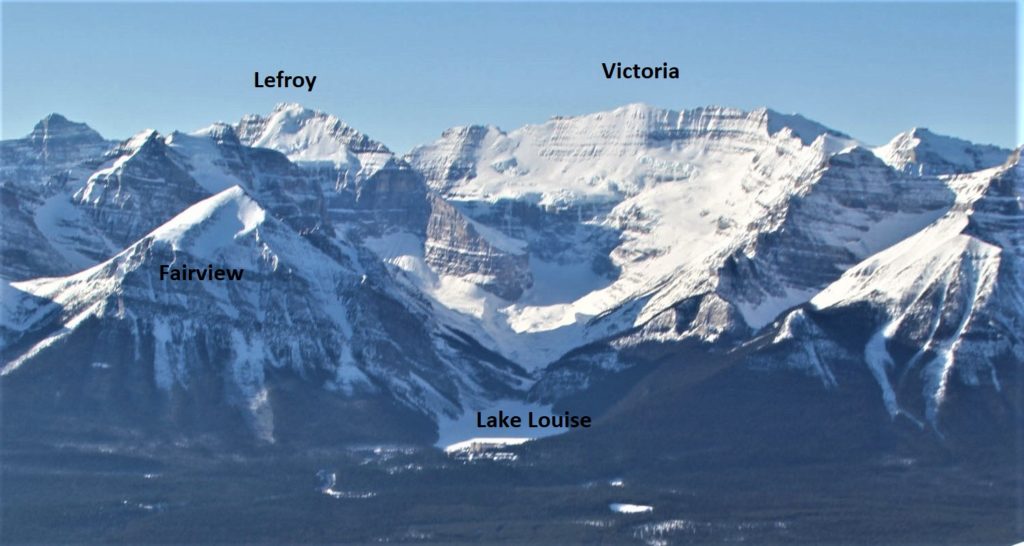 10. Eisenhower Tower on Castle Mountain
https://www.billkerr.ca/index.php/eisenhower-tower/
11. Devil's Head – Spirit mountain named and drawn on leather hide map by guide "Old Swan" in 1770. Devils Head's name is an accurate preservation of its native Cree-language name, we-ti-kwos-ti-kwan.[2]Only Mountain identified by name and shape by Peter Fidler and subsequent explorers. Most visible from highrise buildings and Highway 1 and 1A West. Prominent Head shaped mountains were revered by native tribes and were used as signposts for annual North-South migration as followed buffalo. Identifiable from Carstairs on South. The other two "spirit mountains are Chief Mountain in Montana and Devils Tower in Wyoming by Black Hills. Tough access through Ghost area. Peter Fidler was the first non native to climb in the Rockies. He did Thunder mountain in 1792 with 2 Pikani guides. His 4th great grandson Bruce McKay has his 1792 Journal which describes the ascent. Bruce ascends Thunder every year. More info at https://www.summitpost.org/devil-s-head-ghost-river-can-rockies/459202
https://www.summitpost.org/devil-s-head-west-ridge-5-4tr/461738
https://www.summitpost.org/devil-s-head-south-gullies/473336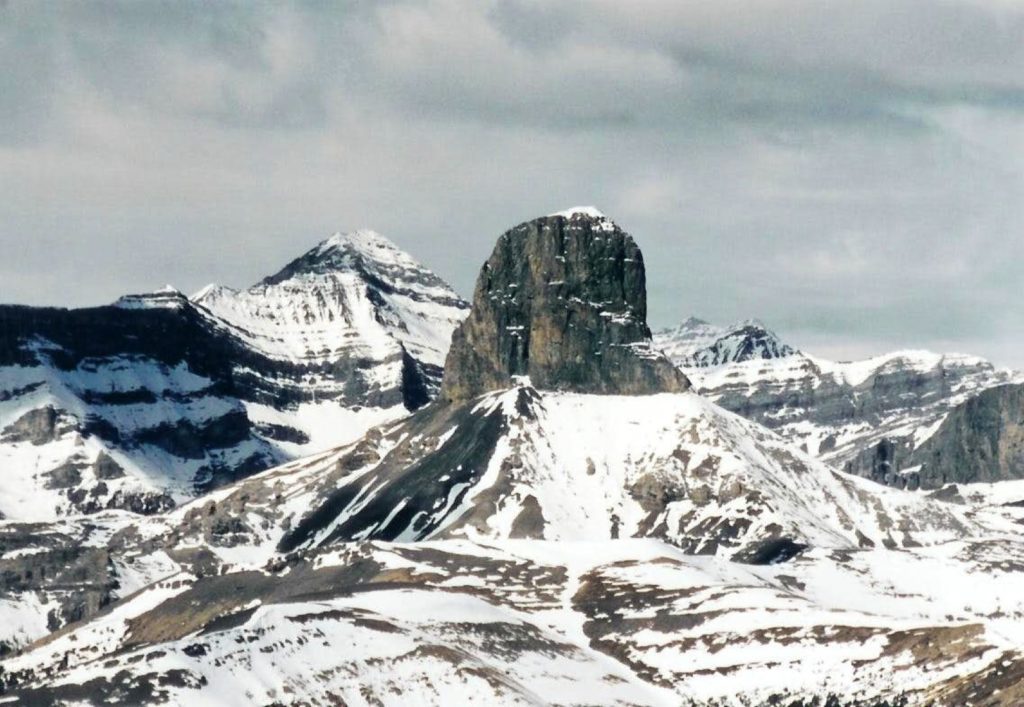 12. Crowsnest Mountain- and 7 sisters and Frank Slide/Turtle Mountain – Highway 3 – Crowsnest pass. Moderate Scramble. Second time https://www.billkerr.ca/index.php/crowsnest-mountain-july-25-2020/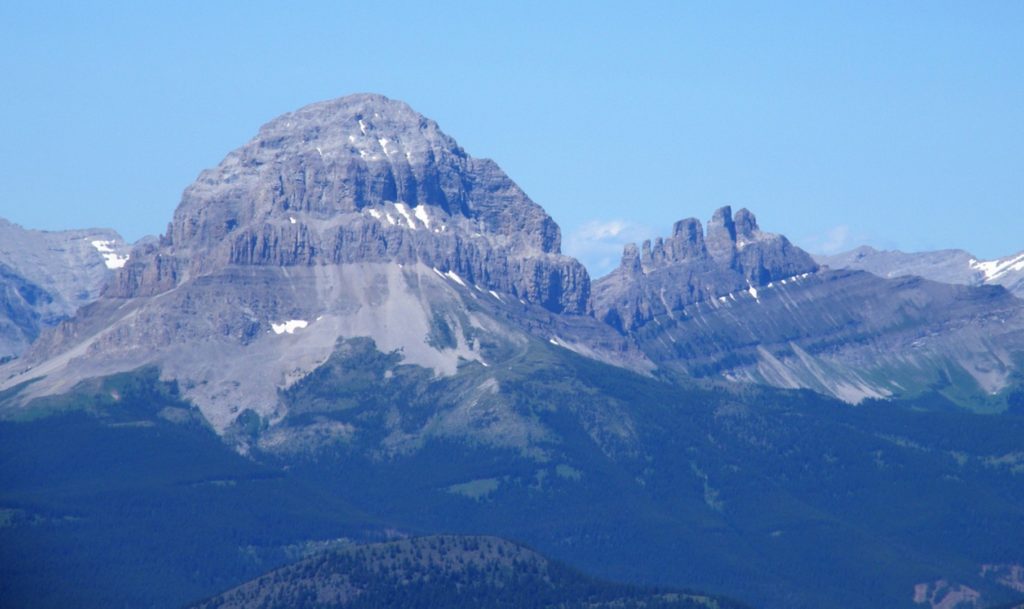 13. Chief Mountain– The second Spirit mountain after Devils Head – Very Prominent for Southern Albertan's (visible for 50 km). Located just across border in Montana near Waterton Park- 3rd Spirit mountain is Devils Tower in Wyoming. TR at https://www.summitpost.org/chief-mountain-mt-tr/420321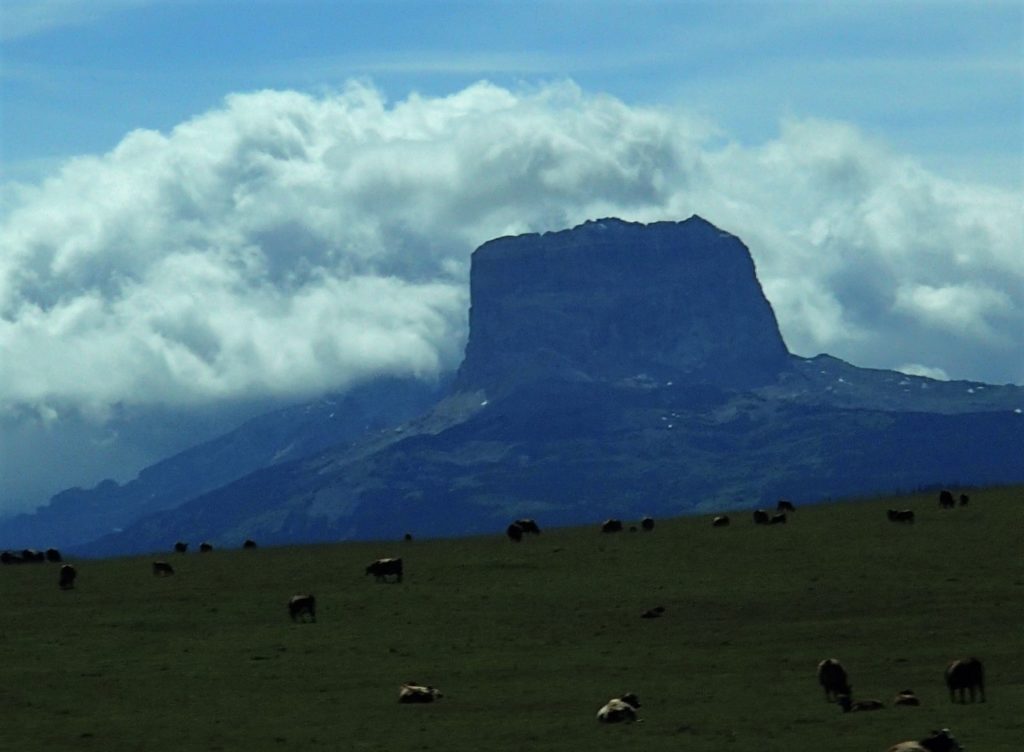 14. Fisher – Cranbrook area – Stanley cup on top twice by Scott Niedermayer 2000 Devils and 2007 Ducks https://www.billkerr.ca/index.php/mount-fisher-july-10-2015/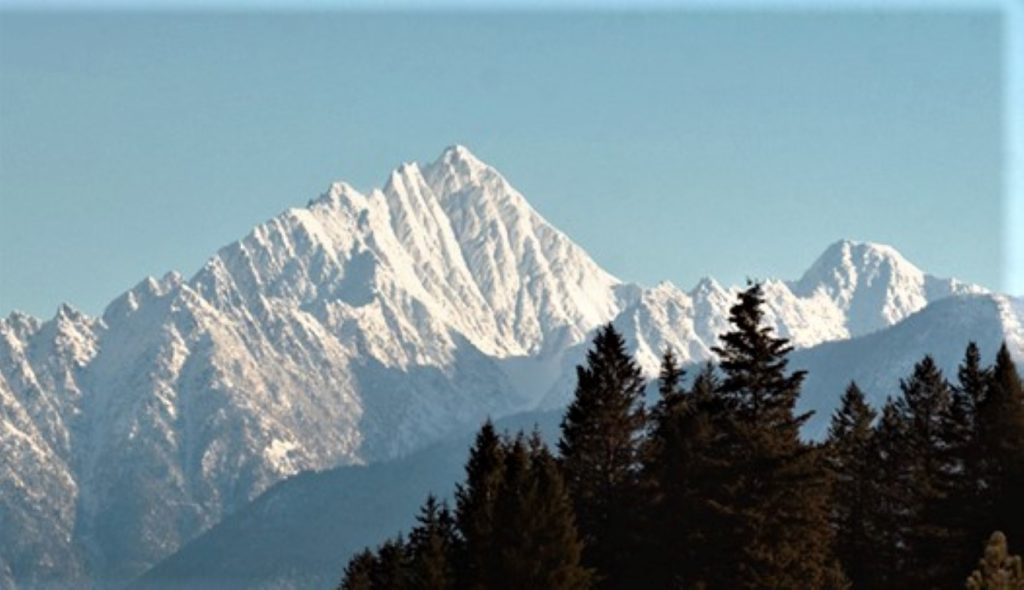 15. Stanley – if drive to Radium/Invermere. 93 South just as cross into B.C. look left. – Glaciated North face is regularly climbed and skied. Great summer snow and ice climb. https://www.billkerr.ca/index.php/stanley-north-face-july-1510/
16. Begbie – Revelstoke Highway 1- climb by glacier which leads to horizontal ledge(see pic) and then scramble up blocky quartzite ridge.
17. Nelson – prominent from Invermere valley – pic from Panorama ski resort.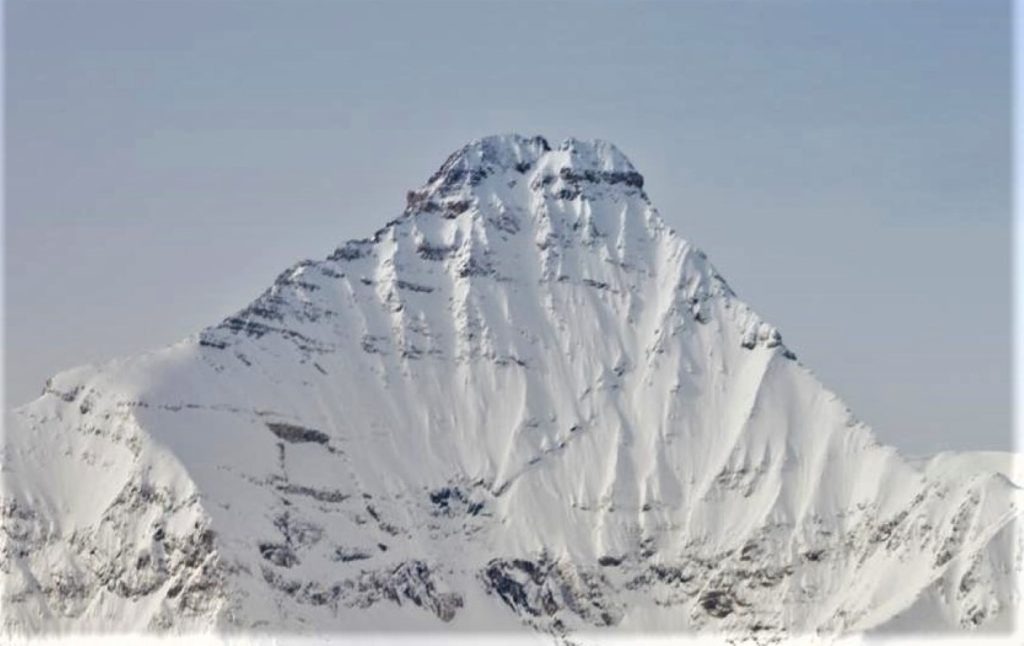 18. Bugaboos – Granite spires rising from glacier. World class climbing- climbers from all over world.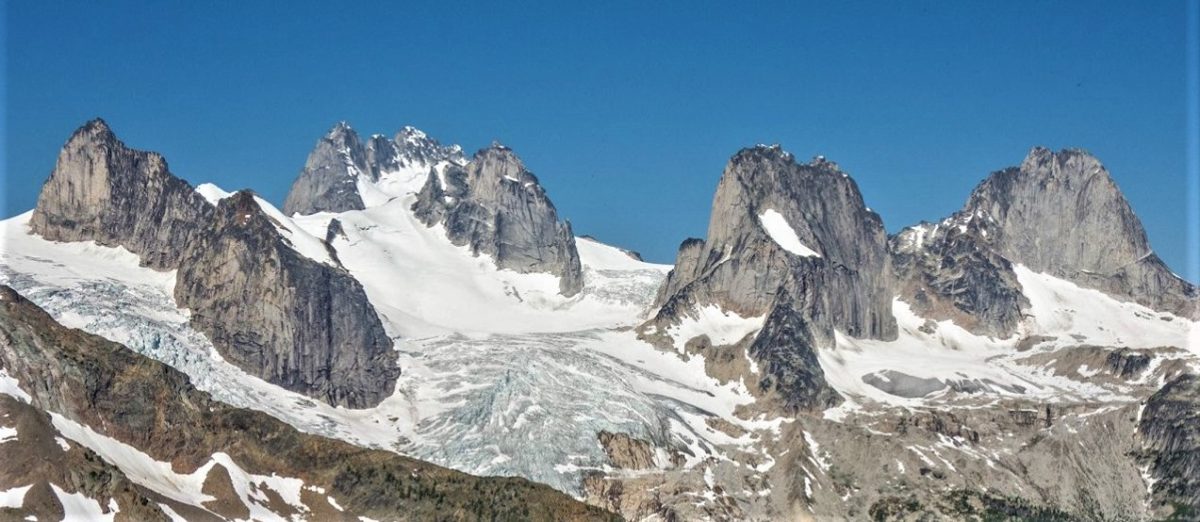 19. Yamnuska – First big mountain on right as drive West on Highway 1. Has a vertical limestone face due to a fault. There are 170 steep multipitch rock climbs on front and the backside is many Calgarians first taste of scrambling and exposure as scramble with chains along a ledge. The scramble is best done counter clockwise so the descent is the first big steep scree run for many people( yellow streak down front). The official name from 1961 is Mount John Laurie, but Yamnuska is its Nakoda name and most popular tag.
Some classic easy multipitch climbs on the front are Grillmar Chimney, Kings Chimney, and Windy Slabs.
20. Little Sister
The first rock route in the bow valley was done by Lawrence Grassi in 1925.
https://www.summitpost.org/little-sister-kananaskis-canadian-rockies/405691
https://www.summitpost.org/little-sister-n-buttress-rh-crack-system-5-5/412332