Mount Bell NE Ridge 5.3 (aka E Ridge 5.4) Banff Lake Louise Canada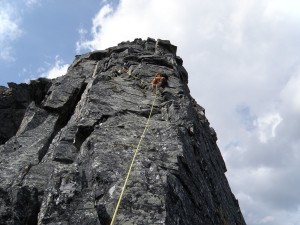 (Note successfull trip in 2011 – link below)
Mount Bell NE Ridge has been in the back of my mind for the last two years because of Gary's accident August 4, 2008.  He fell while we were on approach to the NE Ridge. He has limited memories from before the head trauma and is a new person.  Gary will never be able to do things like drive or ski but he seems happy with his life.
Myself – I needed to go back and do the climb.  Good friends Scott and Wietse agreed to come along on friday.  The forecast was something like 40 percent chance of scattered showers late in the day.  The first obstacle was being allowed to park at the trailhead as road construction prevented access.  This has to a record number of years to rebuild any stretch of the transCanada!  Eventually the flagman let us park on the side of the road.
I had forgotten the wet muddy conditions and loss and regain of elevation to O'Brien lake and next time I will try access a notch in the ridge from the Taylor lake junction. We went up the avalanche gully alonside the ridge and I had a moment when looking over at the accident site but we cut over to the ridge earlier and we started scrambling our way up.  We scrambled the ridge to the first steep step which we went around on a ledge to the left.  The NE ridge is alternating steps and easy spots and is very good hard quartzite to 5.3 and maybe 5.4 (aka as East ridge in some writeups)
As we approached the big steps we had a little shower and then could see a big storm moving in.  Quartzite is really slick when wet and the thunder and lightning was scary.  We retreated along the ridge and then bailed off the side as the rain and hail/sleet hit us.  We hid under an overhang as the lightning put on a show.  After things calmed down we bailed down a shallow scree gully to a grassy ramp that angled all the way down to the valley.  We came out between the 3rd and 4th of the four lakes that are in the valley. It is good to know there is an easy escape route off the ridge as there is no way off once you are above where we bailed.
Another rain storm as we went by O'Brien lake and then steady rain the last 15 min out to the car.  We will be back but only with a good forecast.
Overall it felt good to be out there especially after I started climbing and leading some sections.  This was something I needed to do and I feel much more at peace with the mountain and myself.
Thanks to Scott and Wietse for coming on the trip and thanks to everyone else for the help and support over the last 2 years.
Pictures at Bell NE Ridge  use fullscreen slideshow.
Right click on largest version to save a copy